Along five decades, great efforts and resources have been invested into vertical integration between cast-iron foundry, machining, and pre-assembly. All our facilites have been developed in order to offer maximum flexibility and reactivity to our customer's needs, from large series to very small prototipal batches.
Our plant includes:
- a state-of-the-art nodular/grey cast iron foundry, equipped with 5 electrical induction furnaces, a green sand automatic moulding line, an internal core shop with cold-box technology, cleaning and shot-blasting facilities, epoxy-powder coating;
- a complete machining workshop including robotized centers, transfert lines, stand-alone centers for small and prototipal batches; available toolings include turning, milling, drilling, slotting, broaching and balancing operations;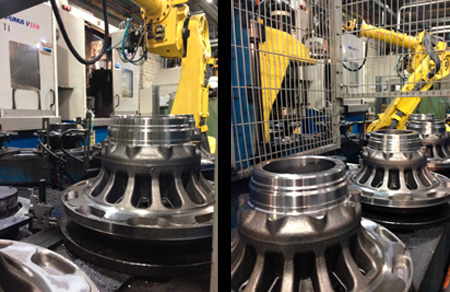 - dedicated areas for pre-assembly of wheel-hub units (hub, bearings, brake-disk, seals, bolts, ABS tone wheel…), differential carriers, and engine flywheels;
- internal labs (chemical/tecnological labs, metrological labs) and internal Engineering/R&D department in order to fully support our customer in product development oriented to process optimization.